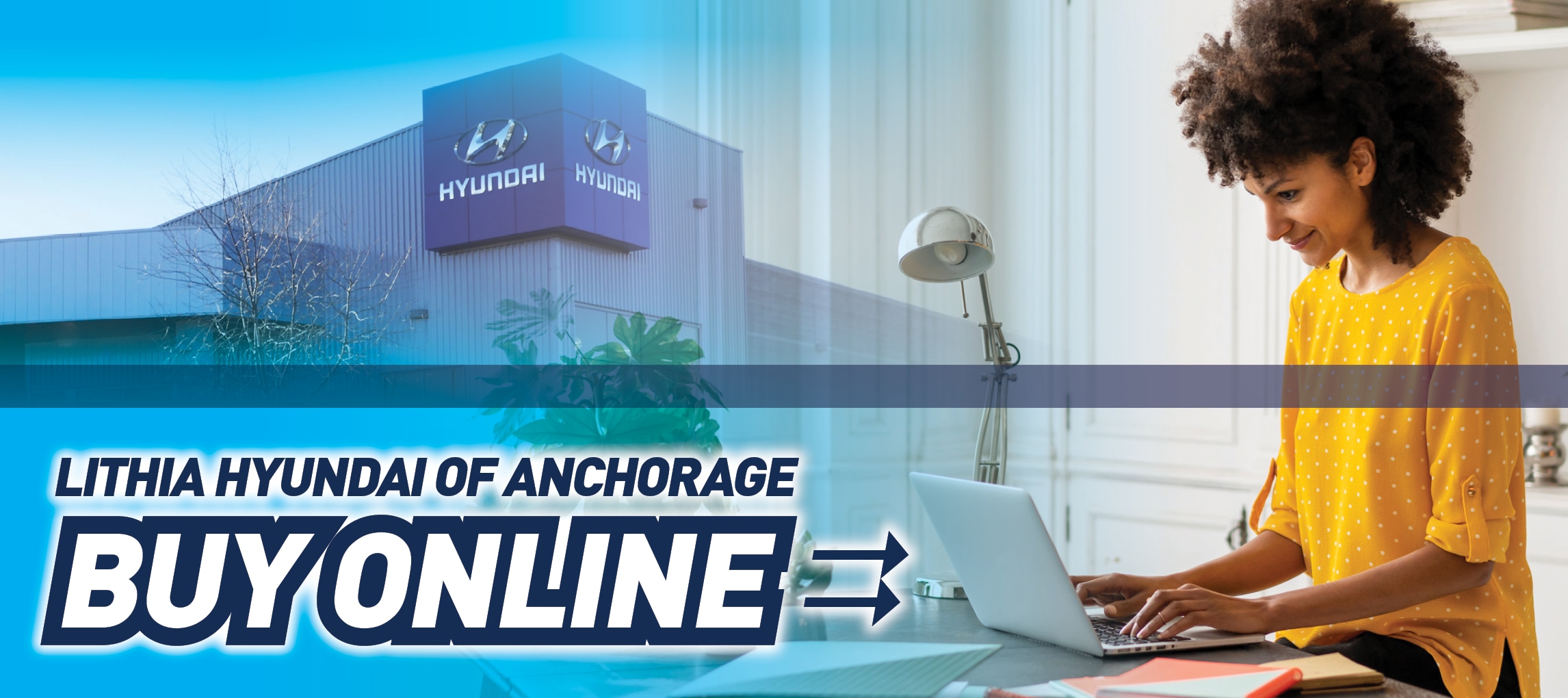 PURCHASE YOUR VEHICLE ONLINE
At Lithia Hyundai of Anchorage, we have one focus - you.  We pride ourselves on innovation and the constant improvement of the customer experience.  Recently, with the introduction of COVID-19 and mandates that have been put into place with social distancing and shelter in place orders, we have decided now would be a good time to introduce you to our auto buying service that allows you to do everything from home without even having to step foot into the dealership.  
You can now go through an entire vehicle purchase process, get a value on your trade in, or even just have a random chat, ALL ONLINE.  Our team of internet consultants are standing by remotely to assist you on your journey.

Shop by model, features or even payment to find the vehicle(s) you are interested in.

STEP 2: Find the Perfect Price
Lithia Hyundai of Anchorage believes we should be transparent with our customers.  We also believe in adhering to our manufacturer guidelines. At times, these two factors can be in conflict. With some of our pricing being below manufacturer guidelines and some of our vehicles requiring one-on-one contact before communicating price, we constantly try to display our lowest advertised price on both new and used vehicle pages. 

STEP 3: Get Your Trade Value
Get the value, then we apply it to your deal sheet. 
Have a trade? Have a camera phone? Great, send pictures over to us using our express trade tool that guides you through a photo shoot for a trade appraisal and we can provide you with an educated estimate of your trade value. With this step complete, you can see the payments inclusive of your trade value. We can firm up our trade value upon an inspection. Congratulations, you just saved even more time.

STEP 4: Pricing & Payments
Build your ideal structure for a deal and payments online to save time in the store. You can c
hange the down payment, compare lease vs. finance options, even apply conditional incentives that you qualify for from the manufacturer. This is more than a calculator, this time spent online translates to a faster in-store experience. If you choose to commit to the terms, our Client Advisors will confirm your deal. From there, you can make an appointment or continue to buy online.

STEP 5: Confirm The Deal, Take the Next Step
Video chat with a Client Advisor to confirm deal and set up your vehicle delivery. 
Buying a car online is a reality. You have all the tools you need to complete the purchase on your terms, when the time is best for you. Once you confirm the deal, a friendly Client Advisor will connect and set a time for a Zoom video conference to walk you through the paperwork and answer any questions.

STEP 6: Schedule Your Test Drive & Vehicle Delivery
Choose when is best for us to bring the vehicle to you for final approval. Once your paperwork is complete, we'll schedule a delivery time at your residence and bring the vehicle to you for a test drive and approval. There's no obligation to purchase, but if you do we'll leave you with your new vehicle and be on our way.