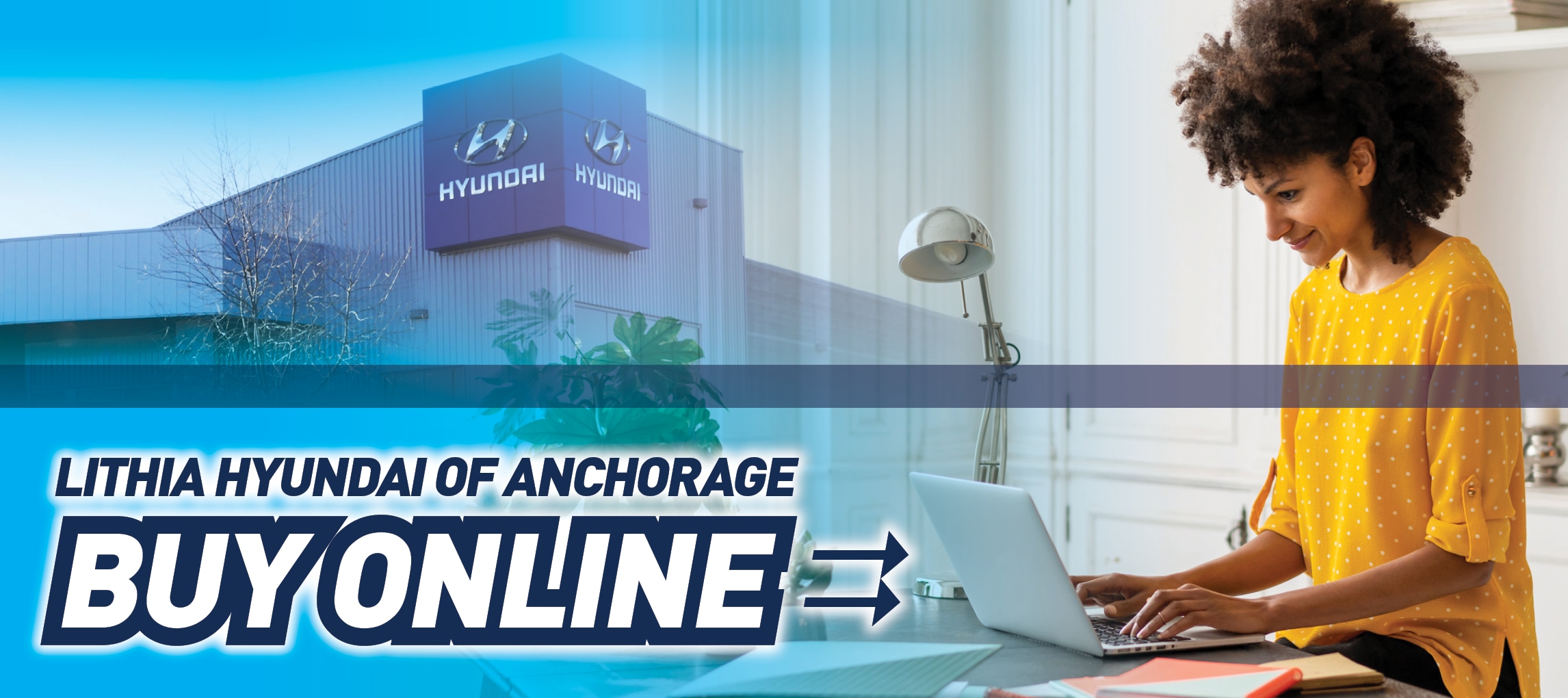 PURCHASE YOUR VEHICLE ONLINE
At Lithia Hyundai of Anchorage, we have one focus - you.  We pride ourselves on innovation and the constant improvement of the customer experience.  Recently, with the introduction of COVID-19 and mandates that have been put into place with social distancing and shelter in place orders, we have decided now would be a good time to introduce you to our auto buying service that allows you to do everything from home without even having to step foot into the dealership.  
You can now go through an entire vehicle purchase process, get a value on your trade in, or even just have a random chat, ALL ONLINE.  Our team of internet consultants are standing by remotely to assist you on your journey.
STEP 1: Choose the Perfect Vehicle
Begin by choosing the style of vehicle that fits your needs.  Search by year, model, features, price, and payment range.

STEP 2: Find the Perfect Price
At Lithia Hyundai of Anchorage, we believe in being transparent with our guests. We must also adhere to our manufacturer guidelines which indicate that one-on-one communication is required before we can offer our most aggressive pricing. 
Choose between lease, loan, and price options to build your own deal.  Select money down, credit tier, and finance terms that meet your needs and see our out-the-door price with all taxes and fees included. 

STEP 3: Instant Trade Evaluation
Ready to trade in your current vehicle or want to know a real time value?  Get an instant trade value with a market-based evaluation description and let us know what you want for it.  We will conduct a professional appraisal once you arrive at the showroom.  We have been know to increase the offers given on-site.

STEP 4: Browse Manufacturer Rebates & Incentives
View available rebates and incentives from Hyundai and select any that are applicable to your deal.  Our team is available to answer any questions you may have about our manufacturer offers.

STEP 5: Confirm The Deal & Enjoy Your New Vehicle
View your summary and confirm your deal with a client advisor by phone or video chat.  Schedule your vehicle delivery and we will handle the rest!